Heat Exchanger, Vertical Design, with Condensate Supercooling by Condensate Accumulation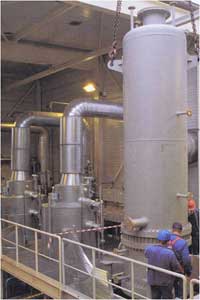 Heat Exchanger Type CS 14
In the area of steam processing, we can recommend the perfect design for your individual application from a wide range of available types. An outstanding feature well worth consideration is the option of supercooling primary condensate, which reduces the consumption of heating steam by an average of 15%. The control equipment required is part of our delivery program and is adapted specifically to each individual task.
Heat exchanger of the GEU-Wärmetechnik always conduct the steam on the shell side of the apparatus. This enables the flow velocity of the water side to be manipulated using simple measures, thus obtaining the best possible heat transfer rate.
GEU-Wärmetechnik condensate accumulation devices stand out for their low noise levels during operation. They offer the option of continuous adaptive capacity control from 100% through 0% load.
The tube bundles are generally removable, but we can also supply bundles in a fixed, non-removable design on request.
We offer heat exchanger diameters ranging from DN 150 to DN 1200 with heat transfer areas of 1.5 to approximately 750 m² and apparatus weights of up to 20 t.
We create designs using our own IT programs and special material and construction databases.