Construction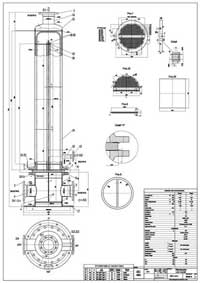 Drawing Example for Type CG 40
We design and construct all our heat exchangers individually for specific applications. We will therefore send you our order confirmation with all the relevant operating data as soon as you place your order. At the same time, our engineering department will start working on the design of your apparatus, assisted by the latest IT programs. You will then receive detailed drawings, usually as .pdf files, which will help you with the planning of the on-site connections.
The drawings show the exact type designation of each heat exchanger and our serial number (drawing number). This data enables us to offer and manufacture spare parts, such as tube bundles or packings, with ease.

All parts are designed and manufactured according to the German AD-Merkblätter (publication by the Working Group for Pressure Vessels) or in line with the ASME, BS or other regulations on request.
Preliminary testing and construction and acceptance tests are carried out according to the Pressure Equipment Directive PED 97/23/EC.
We create designs using our own IT programs and special material and construction data bases.
Acceptance inspections are carried out by TÜV at our manufacturing site, according to the regulations for the sites where the device will be operated, or by the authorities in charge at our customers sites.